Art & Fashion – The Museums Want IN!
The world of Art has a long history of influencing Fashion – from St Laurent's Mondrian-influenced dress in the 70's and Schiaparelli's outrageous Dali-esque Lobster Hat to the boho-and-beatnik-chic that struts the hipster markets every decade or so. With high-street fashion pairing promiscuously with designers and artists, and museums trying to feed public demand for the 'fashion retrospective' (ie: recent McQueen in NYC and its larger London show; St. Laurent museum in Paris; museums as Fashion Week venues for the likes of Chanel and Valentino) it was not going to be long for some marketing wizz-kid to propose an outside – and to date a-typical –collaboration between a museum and a mainstream (retail) fashion label.
Hot on the killer-heels of the record-breaking Alexander McQueen retrospective Savage Beauty, the Victoria & Albert Museum in London (V&A) announced this week its partnership with high-street heavyweight Oasis in a range of clothing (article info | website). The V&A has long been known as a mecca of decorative arts and adjustments to its mandate have seen a rise in awareness of the socio-cultural significances of everyday attire and the museum has taken great strides in adding these and other objects of everyday use/exemplary design to their vast collections. So this new partnership, while a bit startling to some, is not off message or target for the legendary cultural institution.
This got me musing about my beloved Montreal and its many many money woes. Cultural institutions have been hard-hit in the last few decades – a perverse political manoeuvre cloaked as 'greater autonomy' that puts onus for funding in the hands of the institute and the community…sink or swim, at least you've built your own pool!
So, what if some of our Montreal museums were to try this V&A/Oasis model on for size?
Chateau Ramezay might want to talk to Meredith Caron – Canada's costume-designing equivalent to Dame Vivienne Westwood – about a line of chic mourning coats (tailored 3/4 is soooo back for 2016!) to flog at La Baie; our Musée de l'Art Contemporain could ally with Matt& Nat for a selection of smart satchels, portfolios, brush- and travel-cases, and purses – MAC must have a bazillion old banners to turn over for that…
So you can see where this is going…until it becomes ridiculous or until one of them offers me a job!
😉
While the need to identify and reach out to newer and greater audiences is widely acknowledged in the Museum & Gallery sector, and requires fresh thinking and innovative approaches, one wonders if this commercial and often heavily incentivised and/or politicised type of collaboration is the road down which our Cultural institutions should blindly travel. And while corporate/cultural partnerships can raise both public profile and (brand) awareness, they also naturally raise many practical and ethical questions. For example, as 'Keepers of Our World Culture & Heritage':
Should, or could museums be replacing or supplanting the visitors cultural experience with the (sadly) more familiar shopping experience?
As the V&A 'voice' joins the many in a chorus of collaborations between so-called Luxury and high-street brands (ie: Karl Lagerfeld for H&M), and since many in the public still perceive museums (their messages and mere existence) as 'elite' and a luxury, one could rightly ask: is this the 'right fit' to sell culture?
Does it represent part of a greater long-term public engagement plan, or is it just another grab at the shrinking leisure dollar of the Middle Classes?
Perhaps collaborations of this type would expose the Museums and their collections to new audiences, but since these shopping experiences tend to be virtual or take place in the high-street shop, how will this effort translate into actual increases in the number of visitors through their doors?
Can't fly to London for the McQueen show, darling?
No problem, you can order specialty items and clothing from the museum online (V&A website) – all 'limited edition'…naturally.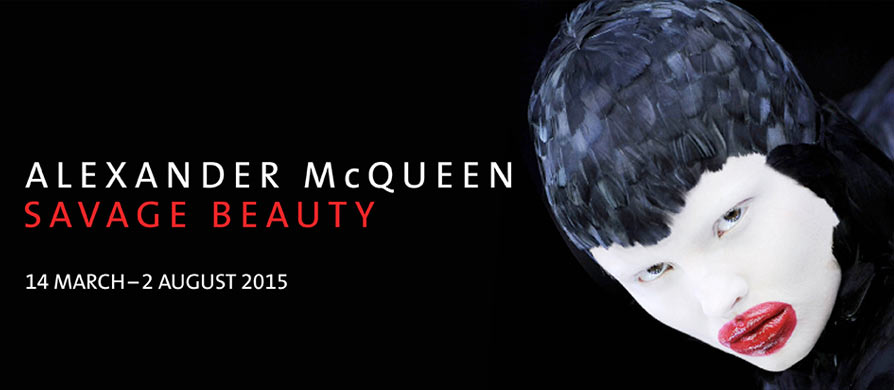 Photo Credits:
St Laurent Mondrian dress
http://www.justforwomen.in/easels-to-runways.htm (access 12/05/15)
Schiaparelli & Lady Gaga Lobster Hat: 'Then & Now'
http://41.media.tumblr.com/tumblr_m3br8fKMAz1rsgryho1_1280.jpg (access 12/05/15)
Alexander McQueen Savage Beauty Exhibit
Leon Neal | AFP © 2015 (courtesy International Business Times ibtimes.co.uk)
Article Credits:
V&A
www.vam.ac.uk (access 12/05/15)
V&A collaboration with Oasis
http://www.gettyimages.co.uk/detail/news-photo/general-view-of-the-atmosphere-as-oasis-and-the-victoria-news-photo/470463932 (access 12/05/15)
Meredith Caron information
https://www.cirquedusoleil.com/en/press/kits/corporate/cirque-du-soleil/creators/caron-meredith.aspx (access 12/05/15)